#par-2481
Acoustic insulation: Stratophone
#par-2476
Stratophone therefore has the same safety protection as Stratobel, but also absorbs sound and resists noise. The higher the acoustic insulation of the glazing, the higher the comfort level, which positively impacts health and well-being. 
Stratophone can also be mounted in a double glazing, improving the acoustic insulation.
#par-3161
Preserving indoor air quality
#par-3151
On average we spend 90% of our time indoors. For this reason, indoor air quality is an important health concern. Everyone's health can be affected by problems of indoor air quality. These can cause allergies, asthma, lung disease, sinus congestion or skin irritation to name only a few of the symptoms in people exposed to poor indoor air quality.
#par-3191
#par-3181
One of the sources of indoor air pollutants comes from the chemicals released by the building and products used in it. More particularly, Volatile Organic Compounds (VOCs) include a range of chemicals that can have short to long-term adverse health effects. Concentrations of many VOCs are up to ten times higher indoors than outdoors. VOCs are emitted by a variety of products, such as paints, lacquers, silicon, glue, paint strippers, cleaning materials and pesticides.
AGC Glass Europe has tested its interior decorative painted glass products (Lacobel, Matelac and Mirox) according to ISO 16000-9 in order to evaluate their potential VOC emissions. AGC's Stratobel and Stratophone laminated glass and Thermobel insulating glass were also tested.  
Based on the test results and following the French Decree No. 2011-321 of March 23 2011 concerning volatile pollutants released by construction products, all our products comply with the "A+" or the "A" category of the Decree. The A+ category corresponds to the highest level of performance or the lowest category of VOC emissions. 
#par-6321
#par-6316
Black Mirox
Black Mirox SAFE+ p>
Lacobel SAFE+ (all colours)
Lacobel T, thermally toughened (all colours)
Matelac Silver
Matelac SAFE+ (all colours)
Matelac T, thermally toughened (all colours)
Mirold Morena
Mirox 3G
Mirox 3G SAFE+
Mirox NGE (Mirox New Generation Ecological)
Mirox NGE SAFE+
Mirox NGE Lead Free Cosmetic
Mirox NGE Lead Free Automotive
Mirox Sanilam
Pyrobel and Pyrobelite
Stratobel
Stratobel PC
Stratophone
Thermobel
Thermobel SunEwat XL
#par-6336
#par-6326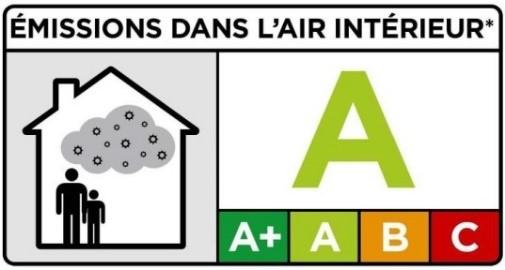 *: Indoor emissions: Information on the emission level of volatiles substances in indoor air, and presenting a toxicity risk by inhalation, and based on a classification of "A+ class" (very low emissions) to "C class" (high emissions).
See also our VOC Declaration on YourGlass