#par-2481
Acoustic insulation: Stratophone
#par-2471
Noise is increasingly an issue in the modern environment: people are more and more exposed to road traffic, train or airplane noise. 
Glass manufacturers have long offered products to protect people from noise. However the most widespread products consist of double glazing in which the air between the two glass panes is replaced by a mixture of argon and a noise-absorbing gas: sulphur hexafluoride (SF6). The main drawback of SF6 is that it is one of the most powerful greenhouse gases: one tonne of SF6 has the same greenhouse effect as 23,900 tonnes of CO2! 
#par-2476
In 2000 AGC Glass Europe launched Stratophone® acoustic laminated glass. With this glass, one of the glass panes in the double glazing is replaced by a pane of specially designed acoustic laminated glass. The acoustic properties of the product are improved and SF6 is no longer used. In addition to improving the acoustic properties of the product, Stratophone® acoustic laminated glass avoids any release of SF6 into the atmosphere at the end of the product's lifetime (against full release for a standard glazing). 
Furthermore, it avoids release of SF6 during production of the double glazing (some 10 to 20% of the SF6 used for standard double glazing is lost to the atmosphere during production, according to a study by the Danish Environmental Protection Agency).
#par-3161
Preserving indoor air quality
#par-3151
On average, we spend 90% of our time indoors. For this reason, indoor air quality is an important health concern. Everyone's health can be affected by problems of indoor air quality. These can cause allergies, asthma, lung disease, sinus congestion or skin irritation to name only a few of the symptoms of people exposed to poor indoor air quality.
#par-3191
#par-3181
One of the sources of indoor air pollutants comes from the chemicals released by the building and products used in it. More particularly, Volatile Organic Compounds (VOCs) include a range of chemicals that can have short to long term adverse health effects. Concentrations of many VOCs are up to ten times higher indoors than outdoors. VOCs are emitted by a variety of products, such as paints, lacquers, silicon, glue, paint strippers, cleaning materials and pesticides.
AGC Glass Europe has tested its interior decorative painted glass products (Lacobel, Matelac and Mirox) according to ISO 16000-9 in order to evaluate their potential VOC emissions.  
Based on the testing results and following the French Law N° 2011-321 of March 23rd 2011 on labelling of construction products, walls and soil claddings and paints and varnish in terms of their emissions of Volatile Organic Compounds (VOCs) the following products meet the A+ requirements of the French law thanks to their low VOC emission performance (the A+ category corresponds to the highest level of performance or the lowest category of VOC emissions): 
Lacobel and Matelac-backed with safe foil 
Mirox NGE
Matelac Silver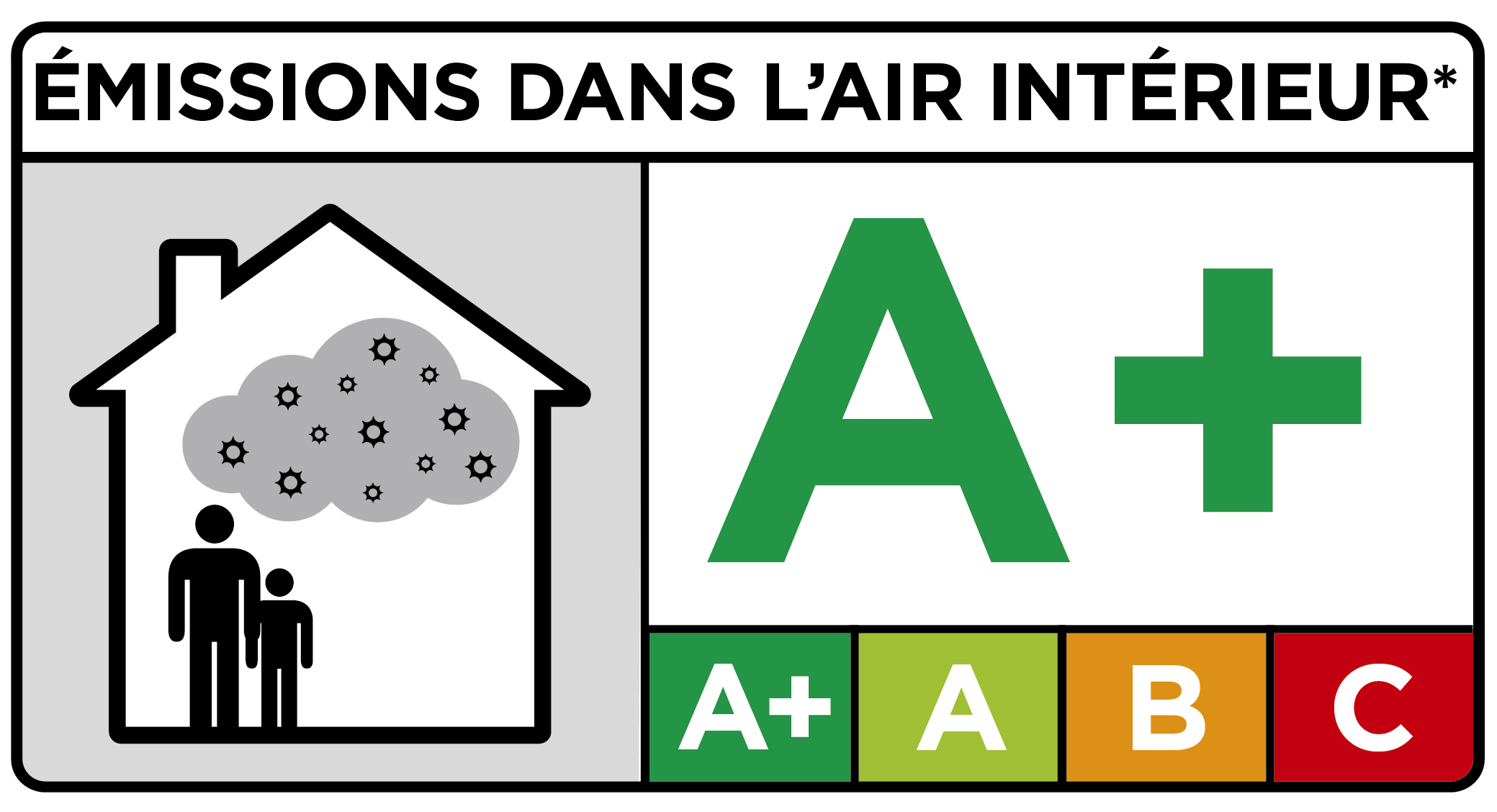 Lacobel & Matelac backed with safe foil, Mirox NGE, and Matelac Silver VOC Label under the new French Law N° 2011-321 of March 23rd 2011
See also our VOC Declaration on YourGlass