AGC Glass Europe: Rosnąca pozycja na rynku amerykańskim
---
17 dużych projektów w Nowym Jorku, 29 w całych Stanach Zjednoczonych
Obecnie w 17 wieżowcach powstających w Nowym Jorku wykorzystywane jest szkło do ochrony przeciwsłonecznej wytwarzane przez AGC Interpane. Projekty, które zyskały już międzynarodową uwagę, obejmują m.in. World Trade Center, Hudson Yards, Muzeum Sztuki Nowoczesnej (MoMA) i wieżę Hard Rock tower. Na dzień 29 marca 2016 r. w całych Stanach Zjednoczonych realizowano 29 projektów i będzie ich jeszcze przybywać. Wśród architektów można wymienić Kohn Pedersen Fox, Adrian Smith + Gordon Gill Architecture, Richard Meier & Partners Architects, Rogers Stirk Harbour + Partners, Foster & Partners, a także inne znane biura projektowe. Jak widać międzynarodowa działalność firmy kwitnie.
Główną siłą napędową tego rozwoju są zakłady Interpane w Plattling (Bawaria) i w Lauenförde (Dolna Saksonia). Ich wyspecjalizowane siły sprzedażowe i marketingowe intensywnie pracują nad rozwojem międzynarodowej działalności firmy. A ich wysiłki bez wątpienia przynoszą rezultaty – na rynku amerykańskim dużym popytem cieszy się ultraselektywne i przejrzyste szkło do kontroli słonecznej, takie jak ipasol neutral 70/39 i Stopray oraz wysoko refleksyjne powłoki, takie jak ipasol bright, ipasol platin.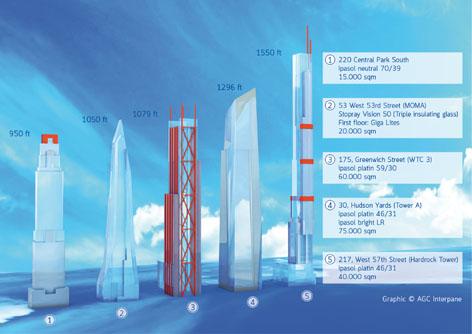 Międzynarodowy trend podkreślający, że duże jest piękne utrzymuje się również w USA, dzięki czemu światowe zapotrzebowanie na produkty szklane w formatach maxi ciągle rośnie. Wielki format jest wykorzystywany, gdy architekci chcą zabudować całe elewacje przy użyciu jak najmniejszej liczby tafli, by stworzyć ekskluzywne i efektowne budowle. To jedna z głównych zalet firmy, ponieważ produkty takie jak Giga Lites firmy AGC Interpane to najwyższej klasy tafle szklane należące do grupy największych produktów ze szkła powlekanego na całym świecie. Maksymalne dostarczane wymiary szkła float wynoszą 18 x 3,21 m, a maksymalna grubość tafli wynosi 20 mm.
AGC Glass Europe, europejski lider w dziedzinie szkła typu float
AGC Glass Europe, z centralą w Belgii, produkuje, przetwarza i sprzedaje szkło płaskie do zastosowań budowlanych (szklenie zewnętrzne i wewnętrzne szkło dekoracyjne), motoryzacyjnych i solarnych oraz do innych specjalistycznych zastosowań przemysłowych. Jest to europejski oddział AGC Glass, światowego lidera produkcji szkła płaskiego.Motto firmy – "Glass Unlimited" (Szkło bez ograniczeń) – odzwierciedla możliwości oferowane przez:
szkło jako materiał, który może być odpowiedzią na różnorodne potrzeby (wygoda, kontrola nad zużyciem energii, BHP, estetyka);
innowacje w dziedzinie produktów oraz procesów, wynikające z ciągłych badań nad zaawansowanymi technologiami szklarskimi;
zakłady przemysłowe, obejmujące ponad 100 placówek produkcji, przetwórstwa oraz dystrybucji w całej Europie, od Hiszpanii po Rosję;
światową sieć sprzedaży;
personel, motywowany przez skuteczne działania oraz innowacje.
AGC Glass Europe obecnie zatrudnia około 16 000 osób.Więcej informacji można znaleźć na stronach internetowych : www.agc-glass.eu (strona spółki), www.yourglass.com (szkło w branży budowlanej)